A Simplified Guide To Forensic Science
Pick your topic: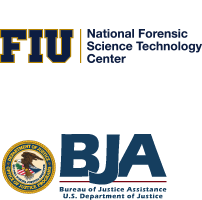 All or some of the projects listed were fully or partially funded through grants from the Bureau of Justice Assistance, the National Institute of Justice, the Office of Juvenile Justice and Delinquency Prevention, Office of Justice Programs, and/or the US Dept. of Justice. Neither the US Dept. of Justice nor any of its components operate, control, are responsible for, or necessarily endorse this website (including, without limitation, its content, technical infrastructure, and policies, and any services or tools provided).
This website produced by the National Forensic Science Technology Center. Unless otherwise attributed, contents of this site are copyrighted by NFSTC. To request permission to use any portion of this work, please email the request to nfstc-info@fiu.edu, indicating the material being requested, as well as how and when it would be used.
To cite this website as a resource, select a format below. Include the link to the module you are citing and the date accessed:

MLA:

NFSTC. "A Simplified Guide to Crime Scene Investigation" LINK HERE National Forensic Science Technology Center, September 2013. (Accessed DATE)

PLTW, In-text:

(NFSTC, 2013)

PLTW, End:

National Forensic Science Technology Center. 2013. Forensic Science Simplified [Internet] USA. [Accessed YEAR MO DAY] Available from: http://ADD LINK HERE
Find out more about this project.