A Simplified Guide To Forensic Science
About This Project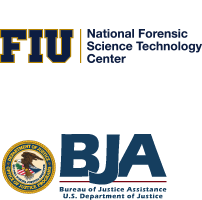 This website was developed and designed by the National Forensic Science Technology Center (NFSTC), now the Global Forensic and Justice Center (GFJC) under a cooperative agreement from the Bureau of Justice Assistance (BJA), award #2009-D1-BX-K028. The concept for ForensicScienceSimplified.org arose from a focus group of criminal justice practitioners that met in January 2011 to identify areas where forensic science training and technical assistance were most needed. The focus group consisted of law enforcement professionals, defense and prosecuting attorneys, judges, educators, corrections officials and representatives from Federal agencies.
This group determined there was a need for additional resources providing basic forensic science education for police officers, corrections officials, officers of the court, and the general public. This website addresses this need by providing a reliable, easily accessible resource for non-scientists that covers the core concepts, capabilities and limitations of key forensic science disciplines. In addition, this effort provides an international perspective where possible; experts from several countries contributed content and resources.
GFJC gratefully acknowledges the numerous subject matter experts and editors who created, contributed to and reviewed this project. Work continues on additional forensic science topics to expand ForensicScienceSimplified.org. BJA's support of this program is part of its efforts to provide innovative training and information to practitioners at every level for law enforcement and the criminal justice system.
All or some of the projects listed were fully or partially funded through grants from the Bureau of Justice Assistance, the National Institute of Justice, the Office of Juvenile Justice and Delinquency Prevention, Office of Justice Programs, and/or the US Dept. of Justice. Neither the US Dept. of Justice nor any of its components operate, control, are responsible for, or necessarily endorse this website (including, without limitation, its content, technical infrastructure, and policies, and any services or tools provided).
This website is produced by the National Forensic Science Technology Center, now the Global Forensic and Justice Center. For questions about this project, please email forensics@fiu.edu.
Copyright and Attributions
Unless otherwise attributed, contents of this site are copyrighted by Florida International University. To request permission to use any portion of this work, please email the request to forensics@fiu.edu, indicating the material being requested, as well as how and when it would be used.
To cite this website as a resource, select a format below. Include the link to the module you are citing and the date accessed:

MLA:

GFJC. "A Simplified Guide to Crime Scene Investigation" LINK HERE Global Forensic and Justice Center, September 2013. (Accessed DATE)

PLTW, In-text:

(GFJC, 2013)

PLTW, End:

Global Forensic and Justice Center. 2013. Forensic Science Simplified [Internet] USA. [Accessed YEAR MO DAY] Available from: http://ADD LINK HERE